Events
25th March @ 6:30 pm

-

8:00 pm
Social Media
Facebook Feed
Royal Scottish Geographical Society
Mar 21, 2019 @ 22:56
On Sunday 24, Wednesday 27, Thursday 28 and Sunday 31 March an Open University/BBC TV series, Blue Planet Live, will be on BBC 1 at 8pm.
In a week of programmes, Blue Planet Live will be celebrating marine life from all corners of the globe as they dive deep to explore the health of our oceans.
Chris Packham, Liz Bonnin and Steve Backshall will be with our incredible marine life to see how they are coping in the face of increasing pressure. Never before has it been more important for this team to stand shoulder to shoulder with scientists and conservation groups as they monitor the wellbeing of our seas.
To accompany the series, The Open University has produced a free booklet exploring human impacts on the ocean and what we can do to protect it. Copies can be obtained by calling 0300 303 4144 or by visiting OpenLearn.
Royal Scottish Geographical Society
Mar 20, 2019 @ 22:40
#TODAY
critically-acclaimed
#science
and
#environment
author Fred Pearce is doing the Royal Scottish Geographical Society double –
The University of Edinburgh at 2.15pm
University of Strathclyde at 7.30pm
#Tickets
on the door! See yo there 👋
Royal Scottish Geographical Society shared a post.
Mar 20, 2019 @ 21:20
Tobermory on the Isle of Mull was the home of explorer Isabella Bird (1831-1904). When she wasn't roaming around Colorado or trekking up Tibetan mountains, Isabella stayed in a little cottage with her sister, Henrietta, and they regularly hosted tea-parties for adults and children. When Henrietta died, Isabella paid for a town clock to be erected in her memory. The plaque is inscribed with Isabella's married name - Mrs J F Bishop.
"I am far more at home in Tokyo and Seoul than in any place in Britain except Tobermory, and I very much prefer life in the East to life at home." (Letter to publisher John Murray, 23rd January 1897)
More about Isabella in this blog post for Royal Scottish Geographical Society:
http://bit.ly/2BW0YHw
Twitter Feed
Mar 20, 2019 @ 19:39
#TODAY critically-acclaimed #science and #environment author Fred Pearce is doing the @RoyalScotGeoSoc double –

@EdinburghUni at 2.15pm
@UniStrathclyde at 7.30pm

#Tickets on the door! See yo there 👋 https://t.co/3eWfcSuKeB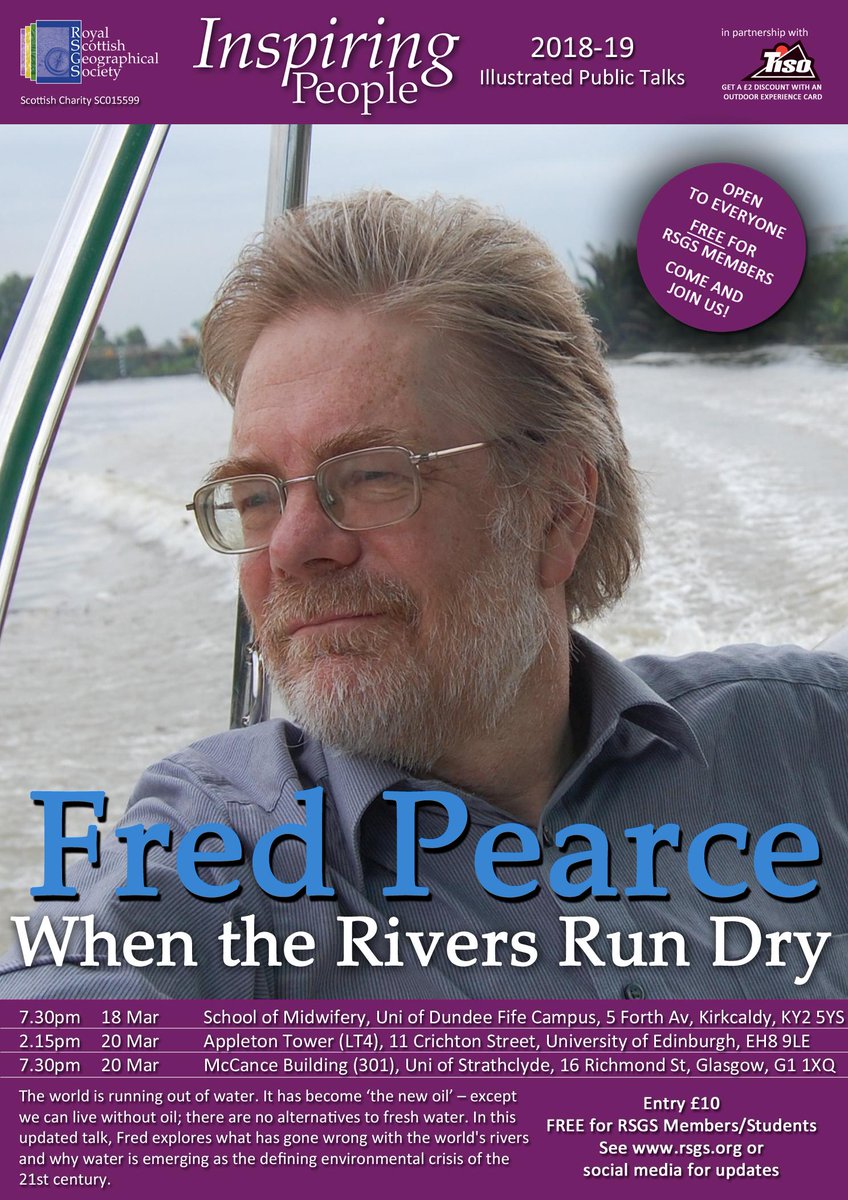 Mar 20, 2019 @ 19:34
Delighted to have an article on Prince Albert I of Monaco in Spring 2019 edition of 'The Geographer' @RoyalScotGeoSoc. The theme is 'Oceans Under Pressure' with articles by Doug Allan, David Shukman and many others - a fab read and some stunning photos! https://t.co/4J2mb3vACE https://t.co/X74oUXFsOZ